English information
Energy from the sea
for greener growth?
Monday June 25th, Tuesday June 26, and Wednesday 27th June at Océanopolis in Brest, Brittany - France

Registration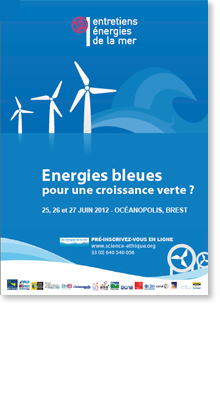 Innovation is an engine of growth. Many countries are committed to the coming new marine renewable energy sector, (including offshore wind). How do we encourage innovation in this field?
How are the European 2020 commitments to reducing greenhouse gas emissions and creating a new leading edge multi-disciplinary industry going to be financed?
Are we facing a new challenge to create an energy Europe with the coastal regions of the Atlantic, English Channel, the North Sea, and the Baltic?
The sector creates jobs, but how do we adapt and transfer knowledge and skills whilst also taking into account the impact of science on society?
Three mornings hosted by European speakers are reserved for exchanges so as better to know, understand, and facilitate the harmonisation of different standards and legislations :
25 June 2012 : Research and Research & Development: policies and finance
26 June 2012: Land use planning
27 June 2012: Economics, employment, training and information
The 2012 Renewable Energy from the Sea symposium, chaired by Professor Michel Ricard, is aimed at interested individuals and industry professionals.

General Manager: Brigitte Bornemann B.
brigitte.bornemann@gmail.com - 33 (0) 640 540 056
International Representative: Christopher Longmore - MRE Ltd.
cbl@marine-renewable-energy.com 33 (6)45 338 118
Web communication officer: Paul Gass
Lieu : Océanopolis – Brest – France
(+ Read more)
(Click on the image to access the plan)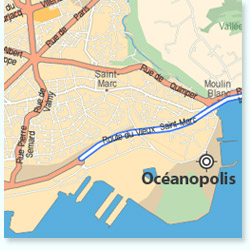 By plane
Brest International Airport, 20 minutes from Brest town centre.
By train
Brest station is 3km away. Take the number 15 bus ("Liberté/Océanopolis") from outside the train station/chamber of commerce.
By car
From Rennes-Morlaix, take the exit signposted "Brest-Ports".
From Nantes-Quimper, Follow signs to "Brest-Océanopolis".
From the town centre, follow signs to the station (gare SNCF), then the "port de commerce", and finally "Océanopolis".
By bus
Take bus number 15 ("Liberté/Océanopolis") or bus number 3 ("Provence/Océanopolis")
Accommodation in Brest:
Hôtel Plaisance - 33(0)2 98 42 33 33 -
http://hotelplaisance.fr
Hôtel Abalys - 33(0)2 98 44 21 86 -
http://www.abalys.com
Hôtel Vauban - 33(0)2 98 46 06 88 -
http://www.espacevauban.com/hotel.html
Hôtel Le Continental - 33(0)2 98 80 50 40 -
http://www.oceaniahotels.com
Travel agency in Brest :
Sun 7 voyages - genevievecarnot@sun7voyages.com - 33(0)2 98 43 05 07
Mis à jour le 21 mai 2012 à 15:46